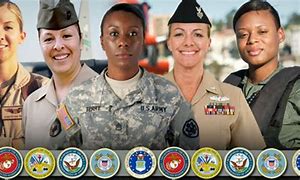 Women veterans make up a small percentage of the engineering workforce, but there are still plenty of opportunities to work as an engineer. Engineering positions are available in a wide range of industries and salaries vary. The mean salary for an engineer is $77,500, according to the U.S. Bureau of Labor Statistics, but there are specialties within the field where salaries can be higher.
To be hired as an engineer, most companies want at least a bachelor's degree in math or science-related fields. You can get a good idea of what courses you'll need to take by visiting the sites of engineering colleges and universities and choosing their undergraduate online catalogs.
Companies for women veterans looking for a job in engineering include;
Accenture
Accenture is a global management consulting, technology services and outsourcing company providing digital transformation solutions including strategy, digital marketing, analytics and Cloud. The firm's clients include large companies from different industries and all sizes of organizations in more than 200 countries on six continents.
Accenture's Consulting business helps its clients to improve their performance by helping them innovate through new technologies like artificial intelligence (AI), robotics, cyber security or data science.
Lockheed Martin Corp.
Lockheed Martin Corp. is an aerospace and defense company that provides products and services to the United States government. The company has a history of hiring veterans, including many women veterans.
In October 2018, Lockheed Martin announced plans for its first all-female engineering team at its headquarters in Bethesda, Maryland: a group of eight female engineers who will work on a project called Relentless Pursuit which aims to develop technology that could improve how pilots fly aircrafts more quickly than they currently do (and potentially save lives).
Accenture Federal Services LLC
Accenture Federal Services LLC is a government contractor for the US government. They have jobs available in the field of engineering and they are looking for women veterans to join their team.
Accenture Federal Services LLC is a leading provider of IT services, digital solutions and business process outsourcing (BPO) services to federal agencies such as NASA, Department of Defense (DoD), Department of Veterans Affairs (VA) and others.
Booz Allen Hamilton Holding Corp.
Booz Allen Hamilton Holding Corp. is a U.S. government contractor with headquarters in McLean, Virginia and additional offices worldwide. The company provides strategic consulting services to clients in all sectors of the economy, including defense, intelligence and homeland security; industrial manufacturing; infrastructure development; healthcare; financial services and transportation systems management.
General Dynamics Corp.
General Dynamics Corp. is a global aerospace and defense technology company with headquarters in Falls Church, Virginia. The company has been awarded the status of Military Friendly® by Victory Media, the parent company of G.I. Jobs, for eight consecutive years.
In addition to being a top-ranked employer on LinkedIn's list of most desirable employers, General Dynamics has also received awards from several organizations for its efforts in supporting veterans:
Microsoft Corp.
Microsoft Corp., headquartered in Redmond, Washington, is a technology company that develops, manufactures and sells computer software.
Intel Corp.
Founded in 1968 by Gordon E. Moore and Robert Noyce, Intel is the world's largest semiconductor chip maker, based on revenue and number of employees worldwide. The company employs over 100,000 people worldwide and has operations in more than 40 countries around the globe.
Deloitte LLP
Deloitte has been recognized as one of the best companies to work for due to its commitment to diversity and inclusion initiatives, including: Offering benefits such as paid maternity leave; parental leave; adoption assistance; domestic violence counseling services; mental health support programs (including PTSD counseling) for veterans suffering from post-traumatic stress disorder (PTSD); career development opportunities through leadership training programs designed specifically for veterans who have served in conflicts outside the U.S.
Northrop Grumman Corp.
Northrop Grumman Corp., a defense contractor, is looking for women veterans to fill engineering jobs. The company is the third largest defense contractor in the world and has been around since 1942 when it was founded by some of America's most prominent scientists and engineers.
https://aainclusion.com/wp-content/uploads/2022/08/Photo-Female-Vets-1.jpg
180
300
Oran Brown
http://aainclusion.com/wp-content/uploads/2023/01/imgpsh_fullsize_anim-300x300.jpg
Oran Brown
2022-09-20 08:52:14
2023-04-18 07:52:53
GREAT ENGINEERING CAREERS FOR WOMEN VETERANS